Virtue
version 3.2.1, April 26, 1999
Copyright ©1997-1999 Marty P. Pfeiffer at Scooter Graphics.
Price: Free!
Virtue is my improvement of Apple Computer's "Charcoal" font appearing in Mac OS 8.
About Virtue:
There is a lot of controversy about Charcoal. Basically, a lot of people did not want this font to appear in the Mac OS 8. A "reverse-engineered" font developed by Greg Landweber for his Aaron extension and Kaleidoscope control panel gave people a first look at Charcoal. Greg built his font from looking at various screen shots and did a good job at making a very complete font. However, the spacing information and special characters characters seemed a little off to me. It seems that Apple couldn't decide whether Charcoal should have two pixels between the letters or just one. This lead to a cramped appearance on screen.
So here's what I did: basically, I took his work and tried to space it how I would if I was making Apple's next font. I studied the "Chicago" system font and and used it as a template for my font. After about 2 hours of tinkering, I had a bitmap font that looked really good as a replacement font for Kaleidoscope. About a week later, after tinkering some more, I made even more improvements.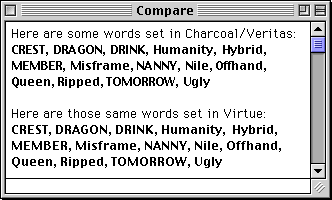 Starting with version 3.0, Virtue is a TrueType-only font. There are no bitmaps, instead advanced TrueType instructing creates an excellent on-screen appearance. The techniques I used to accomplish this will soon be applied to my other font creations.


Macintosh: TrueType
Windows 95: TrueType
The curious might want to check out the version history.
---
Related Links
If you like Espy Sans and want a font that looks like it that you can use on your screen and printer, you might want to check out my Nu Sans. A companion serif font is Nu Serif--which is based on Apple's Espy Serif bitmap font. Also, if you are into the Newton OS, check out my Nu Casual font--which is a outline version of the Newton Casual bitmap font.
There are several great Macintosh-related pages on the net. Here are a few of my favorites: (in no particular order) Macintouch, Mac Central, The Mac Resource, MacNN and Version Tracker. Also check out Macworld, which mentioned my fonts in their Quick Tips section for January 1998 (Thanks Lon Poole!)
---
(Secure | Non-Secure)
Register any Scooter Graphics font from your web browser

Send Marty a comment about his fonts.

See all the fonts available from Scooter Graphics