11/16/96 Saturday
Worked on Epsy Sans-Tight
Created numbers and misc. punctuation.

Went to see "Space Jam" - not as good as I thought it would be, but still pretty good. Too many screamin' kids in the theater; I recommend going to see a late show.

11/12/96 Tuesday
Worked on Epsy Sans 4.1
Finished up changes to Epsy Sans-Book (increasing overshoot, slightly modifying side bearings). Modified the "f". Should have something for you to look at really soon!
Modified Epsy Sans-Regular. Changed the overshoot method on the numerals:

The difference is subtle, but "God is in the details."
11/6/96 Wednesday
Worked on Ground Slither
Completed the alphabet and created the web page.

11/2/96 Saturday
Worked on the Espy Sans-Tight
Made tons of changes, bringing the design up to Epsy Sans 4.0 status. I plan to include this font with Epsy Serif. Hopefully, I'll have these fonts available by the end of the month. Hey, it'll be the perfect Christmas gift for that special someone.
10/18/96 Friday
Worked on the Web Site
Okay, I've been radically altering my web site in accordance with Apple's Human interface Guidelines.
I'm gradually getting rid of all kinds of anti-aliasing because it makes images appear fuzzy.
I'm also using a reduced color set, see below, and the same color set on all of my icons.

This is the color set that Apple Computer uses for all of it's icons. It allows the Macintosh System software to correctly highlight and label icons. I'm working on trying to write JavaScripts to make my icons highlight. I always thought it was kind of dumb that when you click on an icon on a web page, you get no immediate visual feedback.
These changes should make for a faster loading, better looking web site. If you have any comments about the site, please drop me a note.
10/10/96 Thursday
Worked on the Web Site
Check out Simga...
Modified the Font Warehouse so that you go back to the Font Warehouse, rather than my Fonts Page after you have previewed a font.
Changes to numerous to list!
8/30/96 Friday
Worked on Calypso
Finished V, W, X, Z
Finally, the whole alphabet is done! I'm currently checking out how it generates bitmaps (this is a great indicator of potential PostScript problems). I also have to create the readme file and the web pages. Keep watching this page over the weekend - I'm on a roll here!
8/29/96 Thursday
Worked on Calypso
8/23/96 Friday
Worked on Simga.
Finished the two character sets.

8/6/96 Tuesday
Worked on Calypso.
Finished H, N, B and J.
9 more to go!
Now I can spell out the name of my favorite ex-girlfriend :-)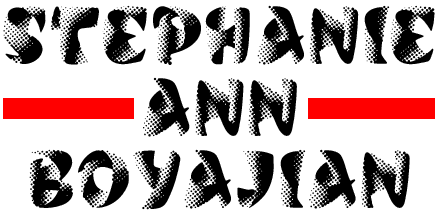 8/5/96 Monday
Worked on Scooter Girl.
Shrunk the circles to make it look less lame :-)

7/13/96 Saturday
Tried to stay cool in 100 F weather.
Totally reworked the Font Warehouse page to be less confusing and more interesting.
7/12/96 Friday
Started work on the Scooter Boy home page
Finished the Scooter Boy logo and the characters in the word "scooter boy" for the new font Scooter Boy.

6/26/96 Wednesday
Put together the registered Epsy Sans 4.0 package.
Put together the family so that when you select Epsy Sans and apply the bold and italic attribute, you get Epsy Sans-Bold Italic. You can also select Epsy Sans-Bold Italic form the font menu. This is the same system that Adobe uses on it's fonts.
6/24/96 Monday
Finished Epsy Sans 4.0!
Get all the details on my Epsy Sans 4.0 page.
I had previously tried to get MkLinux to get to work on my Mac (from 6/15-6/21). However, I finally found out that my model Mac isn't supported. Oh, well...
6/14/96 Friday
Worked on Epsy Sans Monospaced Bitmap
Finished up the plain version. My goal is to have a better-looking terminal than anyone else. So soon, instead of using Claris Works to write a letter, I'll use emacs on my unix account :-)
Worked on Calypso (0.1 in progress)
Finished the letters "T" and "P". Didn't get as far as I wanted.
6/13/96 Thursday
Worked on Epsy Sans (4.0 in progress)
Printed out a sample sheet - realized that Epsy Sans changes are only visible on printed output! So basically it looks the same as before online :-)
Worked on Calypso (0.1 in progress)
Finished the letters "M", "R" & "T". Tomorrow I should have enough letters to spell my name.
6/12/96 Wednesday
Worked on Epsy Sans (4.0 in progress)
Increased overshoot to match example (Helvetica)
Kerned letters with sharp apexes (i.e., M, N, V, W, X)
Overall improvement in character roundness.
Pictures tomorrow!
Worked on Epsy Sans Bold (3.3)
Redrew & and *
Changed accents
Modified ae and oe ligatures
Fixed "y" dieresis
6/11/96 Tuesday
Worked on Calypso (0.1)
Slow-going, but it is coming together quite nicely. I finally have all the letters necessary to spell out the name of the font:

6/10/96 Monday
Worked on Epsy Sans (3.3)
Changed accented characters to more closely match the Helvetica example. Now the accents have more character - rather than being just a diagonal line, they now are a full-fledged glyph!
Old: New:


Modified the lowercase "z" to get rid of those annoying weak corners.
Old: New:
Modified tilde using Eurostyle example.
I also got my Jeep back from the shop - $200 later, it runs great. And your shareware registration fees made it all possible :-)
Marty's Design Log Archive:
2000 | 1999 | 1998 | 1997 | 1996
---
(Secure | Non-Secure)
Register any Scooter Graphics font from your web browser

Send Marty a comment about his fonts.

See all the fonts available from Scooter Graphics